28mm lens brings out 35mm viewfinder
The first Leica camera with a 28mm frame line was the M4-P, which was not launched until 1980, and the elmarit 28mm v1 was discontinued in 1972. elmarit 28mm v1 brings 35mm frame lines on Leica M2, M4, M6, M7, Mp, m9, m240, m10, etc. In fact, the edge of the viewfinder is just a 28mm frame. When elmarit 28mm v1 meets M3, it will bring out 90mm and 50mm frame lines.
One day, a friend said that he did not use a 28mm lens because it was too close to 35mm. If you are shooting landscapes in the distance, the viewing angle of 28mm is close to 35mm. However, this is not the case in street photography. The subjects of street photography are very close, at a distance of 2 meters. So in street photography, 28mm and 35mm are very different.
The elmarit 28mm v1 is manufactured in Germany and Canada. In 1969, Canada trial-produced a small number of lenses with the second version of the optical structure. Elmarit 28mm v2 looks very similar to v1, but its number is in the v1 number segment. The plastic focus handle for v2, while v1 is metal.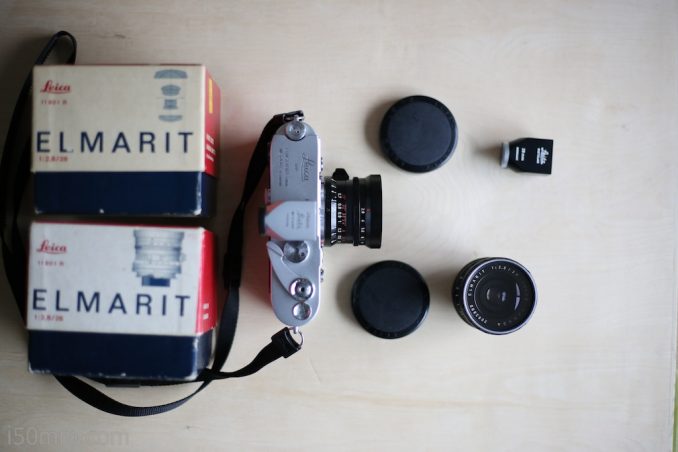 Lens collection
Because the quantity is too small, the price of elmarit 28mm v1 lens is very expensive. Many lenses are too new and only suitable for collectors.
Resolution
The more you use Leica, the more sharpness is not important, because in addition to sharpness, Leica has more details. elmarit 28mm v1 not only has sharpness but also details. Whether it is the center or the edge, the sharpness is sufficient.
Digitally compatible
The magic is that elmarit 28mm v1 is compatible with many digital M, including M9, m10, m240, etc., there is no obvious red shift, it is normal to have a slight vignetting. I once did a test, and choosing lens correction in the camera can solve the vignetting problem, but it has fewer features.
color
The blue color of elmarit 28mm v1 is very layered and not light.
Black and white tone
There are many factors that determine the tone of a picture, such as color contrast, light and dark contrast, and micro contrast… The biggest feature of elmarit 28mm v1 is that it has a delicate tone contrast.
28mm bokeh
No great photographic work relies on bokeh. elmarit 28mm v1 can highlight the main body and make the background retreat silently.
Continue reading

leica elmarit-m 28mm f2.8 v1 9elements with black & white films