It is a Budget
There are so many point and shoot cameras to choose from. Whether you need a budget-friendly option with less advanced specs or you're prepared to pay a little more to have the Contax T-Series.
The Leica mini-Series cameras are some of the most cheapest point and shoot Leica cameras, and the newest model is the mini 3. When you are on the street, it's crucial you realize you are holding a "mini Leica," a spirit throbbing with LEICA signature.
It is a LEICA
The Leica mini 3 take all the hassle away from photography by providing an all-in-one camera that can fit in your pocket. Without the need to change lenses you can spend more time with your girlfriend, they're small so you can take it anywhere and the image quality is good. They're great for taking on holidays, day trips or on street for casual snapping.
It is a SUMMAR lens
The Leica mini 3 is a favorite of many Leica photographers as it features a 32mm f/3.2 LEICA SUMMAR lens and is small enough to fit in your back pocket so you can keep it on you at all times! The Leica mini 3 is lighter than Leica CM which features a 40mm f/2.4 LEICA SUMMARIT lens .
Capture memorable memories with the Leica mini 3 film camera that is just 35 mm. With a focal length of 32 mm, the lens of this Leica film camera makes it ideal for shooting panoramic views of landscapes. Having a maximum shutter speed of 1/250, the Leica mini 3 lets you capture excellent photos of moving subjects, too. Moreover, being compact, this Leica film camera is easy to carry along.

roduction era - 1996-1997
Order nos. - 18016-black, 18017-black.DB, 18018-titan, 18019-titan.DB
Size W x H x D - 119 x 64 x 35 mm / 4.7 x 2.5 x 1.4 in.
Weight - approx. 165 g / 5.8 oz.

more info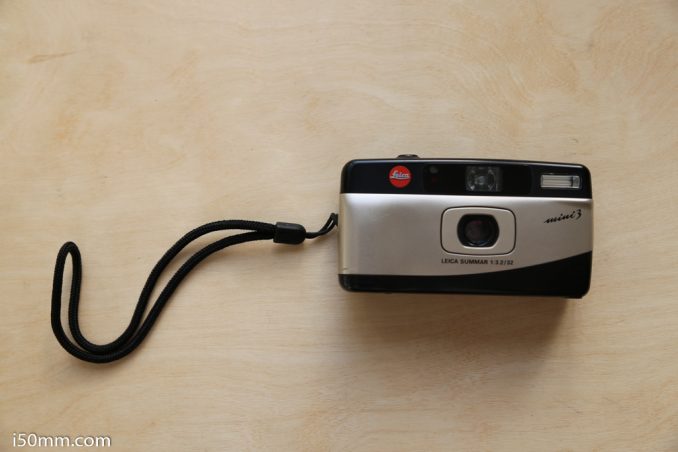 contact: i35mm@i50mm.com     © 2020 Zhao Zhenguo. All Rights Reserved.