The first generation of Summicron 90mm f/2 has three versions, with the same optical design but mainly differing in appearance. The craftsmanship is excellent, with smooth focusing, and the silver version has a rigid feel when enlarged, really representing the top-level craftsmanship of the M3 era. Later, I went and bought a second version, as there aren't many new first-generation "big head nines" available, and if the silver version has many scratches, it's a bit hard to look at, so the second version is more mediocre and the paint peeling is still passable. After all, the "big head nine" is almost Leica's largest lens, even bigger than the 135mm, otherwise why call it the "big head nine"? But later, it was too heavy, and even the second generation couldn't be kept.
Version 1: Silver "big head nine" (beautiful, but too big and silver, in the sun, who do you want to blind?) Version 2: Black "big head nine" (ugly, with two rings protruding from the center focusing and aperture rings, like wearing two bracelets.) Version 3: Black "big head nine" (ugly, with two identical bracelets, can it get any uglier?)
Summicron M90/2
The design of the lens hood is what I like most, as the hood is gradually pulled out one by one as the lens cap is pulled out, before the lens cap is removed, this damping design is just soulful. I haven't seen any other lens with such a design, including later Leica lenses. Later Summicron M90/2 E55 and 90 AA also changed their lens caps to plastic.
Using a 90mm lens has two major problems: long focusing distance and slow focusing speed. The Summicron 90mm f/2 also has the added issue of being heavy and large. The 90mm lens is not the most practical focal length, especially for street photography. As far as I know, the only photographer to use a 90mm lens for street photography is Saul Leiter. In my opinion, occasionally using a Leica 90mm lens for street photography is fine, but the most appealing aspect of the Summicron 90mm f/2 is for shooting portraits. Many people want to buy a Leica 90mm lens for shooting flowers, but I think it's better to save money and get a Canon 70-200mm or a macro lens instead.
For a 90mm lens, the biggest problem is not image sharpness but rather hand shake. A success rate of 1/8 or 1/15 is still very low, and a steady hand is more important than having the AA version of the lens. Those who use the 90mm AA lens will soon be disappointed because the images are not as sharp as they expect due to not being able to focus properly or hand shaking. It is better to go for an older version of the lens and save money. The issue of focus shifting is also common with the 90mm lens.
In terms of options, I believe the wisest choice is the second version of the Summicron M90/2 E55. It is more expensive than the Big Head Nine, but it is more attractive, lighter, and smaller. It looks almost identical to the 90mm AA lens and produces better images than the Big Head Nine. The 90mm AA lens is too sharp and not very suitable for shooting portraits, and its application scenarios are limited. Of course, the 90/4 lens is also a cost-effective option for those who want sharpness.
SEOOF-M
Maximum aperture: 1: 2
Angle: 270
Minimum distance: 100cm 
Filter: E48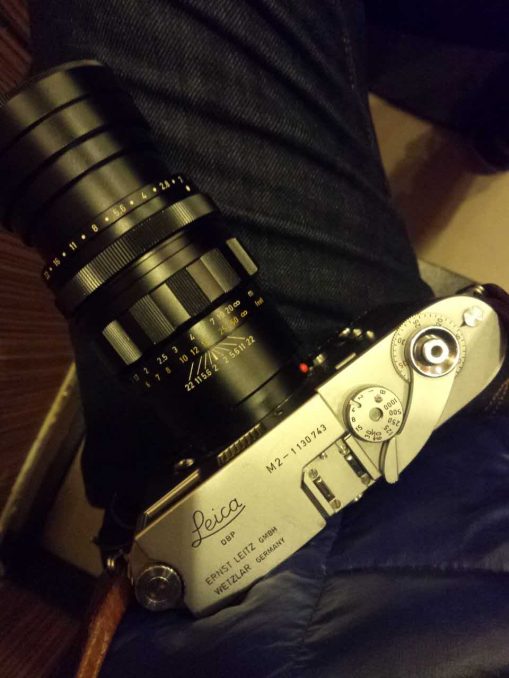 contact: i35mm@i50mm.com     © 2020 Zhao Zhenguo. All Rights Reserved.