Glow
The lens is a bit soft, suffers from chromatic aberrations and vignettes at f/1.4 maximum aperture. It produces soft glow with shallow depth of field and has a swirly type of bokeh when shot wide open. Hence its nickname, the "Leica glow". This type of soft and glow bokeh—people either love it or hate it.
Although there are many sharp lenses in my collection, I also like the beauty of photography, not just the perceived technical perfection. The special dreamy glow cannot be recreated with software, it can only be achieved in-camera. ​It is excellent for street portraits with its glowing effect and becomes very sharp when stepping down the aperture like every other Leica lenses.
In fact, in the three "Leica Glow" lenses I have used, "Leica Glow" is not so easy to appear, especially in film photography and low light environments.
Bokeh
It is neither the smooth and buttery total background obliteration of Leica Summilux 35mm f/1.4 ASPH nor is it the progressive blur bokeh of Summicron 35mm f/2 v4(7-elements)—though it is closer to the latter.
Its important to be clearthis is no where near a perfect lens. Even though the "Leica glow" lets you shoot at f/1.4 – it shouldn't be used at this aperture all the time. If you want a sharp f1.4 lens then you wouldn't want to go near this old lens, insteadits either the Summilux 11874 or the Summilux 11663 you should be going for. If you want a legacy lens with Bokeh and sharpness you would be much better off with the Leica summicron 35mm f2 v4. The "king of Bokeh" will give you bokeh and sharpness, but what it won't do is give you the "Leica glow".
Not every photo looks good under f/1.4. Stopping down the "Leica glow" yields excellent results. I noticed that at every aperture between f/2.8-f/8 the "Leica glow" almost up there with "king of Bokeh" in regards to resolution, colors and vignetting.
Balance
When Summilux 35mm ASPH lenses are optically better than this old lens, why would anyone want to use it? Its current popularity is no doubt due to its low cost, not its 'soft glow'.
What I wanted, and got from the lens was the swirly bokeh and the dreamy glow the lens produces when wide open. The softness and vignetting are mitigated a lot with smaller apertures. Consider its small size and light weight, it's well balanced on a Leica M.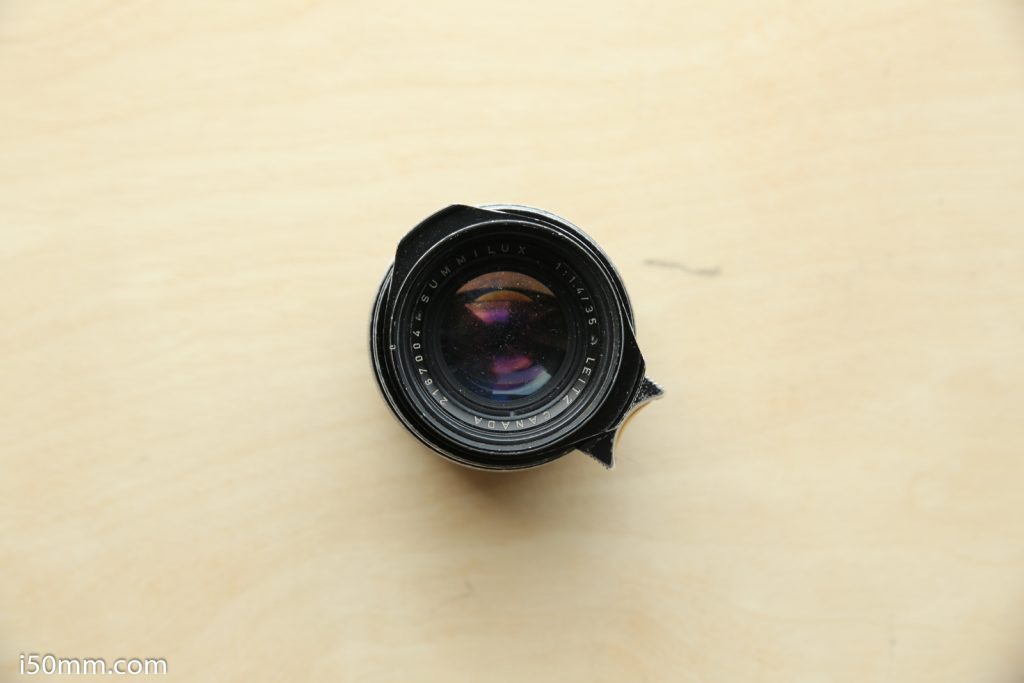 Production period: 1961-1995
 Code: 11869(black), 11870(black
 11871 (with M3 attachment), 1 1860(titanium)   Serial#:1,730,001-n/a
 Total production: n/a
 Maximum aperture: 1: 1.4
 Focal length(nominal): 35mm
 Angle: 640
 Minimum distance: 100cm(M3)65cm(other   Weight: 245 grams, later 195 grams,
 Filter: E41. later VII
contact: i35mm@i50mm.com     © 2020 Zhao Zhenguo. All Rights Reserved.