The difference between people may be that they make different choices when facing the same problem. In one thought, you made your choice and I made mine, then I became me and you became you. The difference between you and me arises from this thought.
Street photography is what makes us different. Life is like a tide, ebbing and flowing, like a breeze, spring passes and autumn comes. Photographers are human spectators who record their own choices. I don't pursue beautiful photos, I only want to record the reality of life.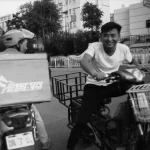 contact: i35mm@i50mm.com     © 2020 Zhao Zhenguo. All Rights Reserved.